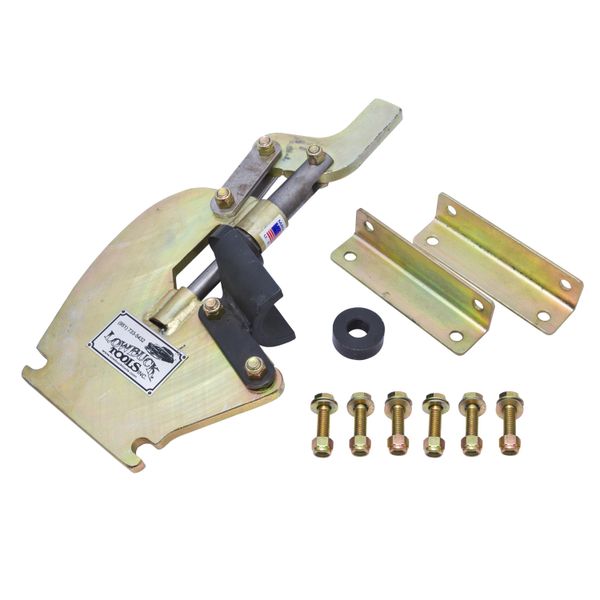 Lowbuck Notcher
The Lowbuck Tubing Notcher is a must for any shop working with round tubing. In less than six seconds you can fishmouth the end of a tube so it can be perfectly butted with another for welding. Cuts are clean and precise, requiring no grinding or guesswork. With this Notcher you aren't working with a hot piece of tubing, and you won't be dancing around with hot sparks in your shoes or eyes.
Notchers are available with 4 sizes of cutters. Each size will notch various diameters of tubing (such as 1" to 1 1/4") without changing cutters. By swapping interchangeable cutters, one Notcher will handle tubing from 1" to 2 1/2". For 90° joints, take a full bite from each side of the tubing. For angles up to 30°, take a large bite from one side and a smaller bite from the other. For joints greater than 30°, miter the tube in a saw, and notch the sharp end only.
These Notchers are made of top quality materials and are designed to last a lifetime. The cutting edges are case hardened to 62 Rockwell, which is 2 points harder than the back of Superman's head, so like him, they are practically indestructible. Each cutter will make literally thousands of cuts. The unit comes cad plated, fully assembled, and is designed to bolt to the side of your workbench. They will notch .134 wall mild steel, .095 wall 4130 (chromoly) and schedule 40 pipe. Extra interchangeable cutters are available.
Lowbuck Notchers DO NOT involve Hole Saws, Drill Presses, Flying Cutting Oil or Electricity!
Tubing Notcher • $345.00
(complete with one cutter set listed below #1,2,3 or 4) 
 Notcher Brackets • $20.00
---
- 1" to 1 1/4" O.D. Tubing

- 1 1/4" to 1 7/8" O.D. Tubing

- 2" to 2 1/2" O.D. Tubing or fence pipe, including schedule 40

- 1 3/8", 1 5/8", 1 7/8", fence pipe, including schedule 40
Additional Cutter Sets • $140.00 (each set #1,2,3 or 4)
At Lowbuck tools we take pride in dealing with our customers directly. There isn't any need for you to go to a dealer. We ship U.P.S. every day. However, we do have a few (very few) dealers across the nation that carry the Lowbuck Tubing Notcher. If you would like to see if we have one in your area click on the dealer link below.