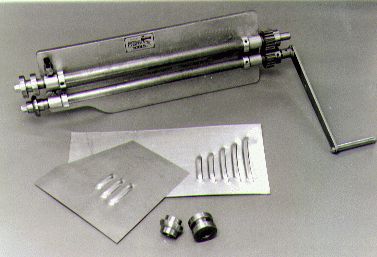 Beadroll Louver Die
If your looking for a machine to punch louvers in a 1929 American Lefrance Fire Truck hood, I guess we can't help you. But if you want to punch some trick louvers in your next fabricating project our new Bead Roller Louver Dies will do the job. These dies are to louver fairly flat panels before they are formed into a race car hood or whatever.
The louvers can be short or long and can even be curved. So you can put your own personal touch on your next project.
Our dies are machined from solid bar stock. They are heat treated and carborized for strength and durability. If your thinking about using or adapting these dies to a machine other than a Lowbuck Bead Roller, that's fine, here are the specifications: 15/16" inside bore, approximate outside diameter 2 1/4", shafts on the machine should be 2" on center. Sorry, we cannot do any custom machining here in our shop.