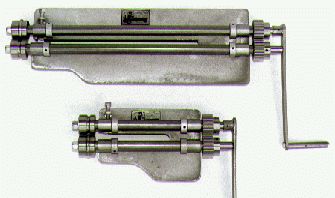 Bead roller
Add the professional touch of 1/4-inch bead work to any sheet metal panels in your own shop or garage with a Lowbuck Bead Roller. Not only does such a bead add a professional look to aluminum, steel, galvanized or other metal, it also adds considerable strength to flat panels.
The Lowbuck hand-operated rollers are available in two sizes. Model #1, with a 12-inch throat, is designed to run a bead around the edge of any size panel. Model #2, with an 18-inch throat, will run beads to the center of panels up to 3 feet wide.
Each roller comes with a pair of mandrels for making 1/4-inch wide, half round beads. Other standard mandrels (such as Pexto or Tennsmith) for edge turning, slitting, crimping, offsetting or other operations will also fit these units. You can also order a set of blank mandrels and machine them to any desired configuration.
Although designed with low cost in mind, these tools are made of the highest quality materials and come powder coated and fully assembled. To operate, simply clamp them in your bench vise.
Note: We don't sell slitting dies for our Bead Rollers because they aren't worth the time and hassle to set them up.